Public telescope shows
The Department of Astronomy offers the public the opportunity to visit the observatory during the winter half-year to look through the AlbaNova telescope. However, due to the pandemic, there are no shows planned for the spring of 2022. Information about possible telescope shows later on will, as always, be published here (see especially "Schedule and tickets"; link to the left).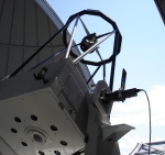 AlbaNova-teleskopet. Foto: Theresa Riem.
The AlbaNova telescope is the largest optical telescope currently in use in Sweden. The telescope show lasts approximately 1.5 hour and consists of an exciting astronomy lecture as well as a visit to the dome to look through the telescope. The show is intended for a broad audience. Some of the shows are given exclusively in English. Note: In case of bad weather, the show is given as planned, but it is not possible to observe with the telescope.
The number of visitors is limited to 30 persons per show. Tickets have to be bought in advance through an online booking system and cost 40 SEK for adults and 20 SEK for children (below 18 years old). After the purchase is completed, the ticket is sent to you via email as a pdf file. You don't have to print the ticket, but note down the booking number.
The current schedule and ticket booking links can be found here. Questions about the telescope shows should be sent to visningar@astro.su.se. Note that you can not book tickets via e-mail.