Workshop on Lyman-alpha as an astrophysical tool
EVENT
Date:
09 September 2013, 8.00 AM
-
13 September 2013, 1.00 PM
We would like to draw your attention to a workshop on the subject "Lyman alpha as an astrophysical tool" that will be held in Stockholm 9-13 September 2013.
This workshop is about the Lyα transition in Hydrogen and its astrophysical applications for extragalactic astronomy and cosmology. Lyα in emission acts probe and diagnostic of star-formation and nuclear activity in galaxies, as well as shock-heating and cooling gas falling onto dark matter haloes and tracing large-scale cosmic structure. In absorption the transition is sensitive to gas column densities that yield measurements of IGM temperatures and neutral fractions. Overall Lyα provides detailed pictures of galaxy/QSO (co-)evolution, the distribution of baryonic matter, and the progression of cosmic reionization. Specifically, Lyα is the principal spectroscopic probe of distant galaxies and one of the main methods to find and confirm distant galaxies.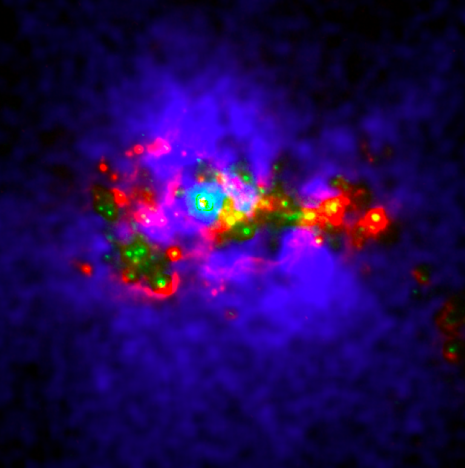 Image credit: Göran Östlin
However radiative transfer effects complicate the interpretation of quantities derived from Lyα. This could introduce significant biases in our view of the distant universe if it is not understood under what conditions a galaxy emit detectable Lyα or shows the line in absorption. The radiative transfer effects shape the line profile which also makes Lyα a promising probe of the late stages of reionization. The objective of the workshop is to advance our understanding of the formation, transfer and interpretation of Lyα so that the full power of this line can be unleashed.
Confirmed speakers
Sebastiano Cantalupo
Lennox Cowie
Mark Dijkstra
Andrea Ferrara
Christopher Martin
Masami Ouchi
Michael Rauch
Daniel Schaerer
Claudia Scarlata
Charles Steidel
Zheng Zheng
Anne Verhamme
Esther Hu
Peter Laursen
Andrei Mesinger
Schedule
The workshop schedule can be found here.
Venue
Stockholm university and Nordita (Nordic institute for theoretical physics) at AlbaNova university center. Directions.
Accommodation
We have booked 20 "Studio Small" apartments (1 person) at the Sky Hotel Apartments under the Booking Reference #2028295. The price is 957 SEK per person per night including breakfast and tax. You can contact Therese Hellström directly to finalize the reservation. The booking is valid until July 4th.
We have also booked 20 "Studio Standard" apartments (up to 2 persons) at the Biz Apartment Hotel under the Booking Reference #29938. The price is 858 SEK per night for one guest and 958 SEK per night per 2 guests, tax included. You can contact Jessica Dahlberg directly to finalize the reservation
The booking is valid until August 15th.
Application
To apply for the workshop, please use the application form. Registration is open until June 21st.
For logistic reasons, the number of participants is limited to 60. If oversubscribed, participants will be selected based on their proposed contribution. We welcome all participants to give a talk.
Scientific organizing committee
Göran Östlin
Matthew Hayes
Lucia Guaita
Garrelt Mellema
Hannes Jensen
Jens Melinder
Andreas Sandberg
Thøger Rivera Thorsen

If you have any questions, please contact Göran Östlin or Lucia Guaita.
The workshop is supported by the Royal Swedish Academy of Sciences through its Nobel Institute for Physics.
Last updated: August 22, 2013
Page editor: Hannes Jensen
Source: Department of astronomy