MOSAIC at the ELT: A Gigantic Step into the Deep Universe
The Department of Astronomy at Stockholm University, together with colleagues at the universities in Lund and Uppsala, delivers the Swedish contribution to the new MOSAIC spectrograph. This instrument is planned for the upcoming European 39 metre telescope E-ELT. During a conference in Toledo, Spain, 17-19 October, scientific studies possible to perform with MOSAIC are being discussed.
The MOSAIC multi-object spectrograph will be the workhorse instrument for the future Extremely Large Telescope (ELT), the biggest visible/infrared telescope in the world. It will be the world-leading multi-object spectrograph well into the 2020s, contributing to most fields of contemporary astronomy. Scientists from across the world are meeting in Toledo, Spain, to explore the unprecedented capabilities of MOSAIC in tracking the earliest 'first-light' structures in the Universe, and to refine plans for observations that will uniquely trace the amounts of dark and invisible matter in the deep Universe. See video.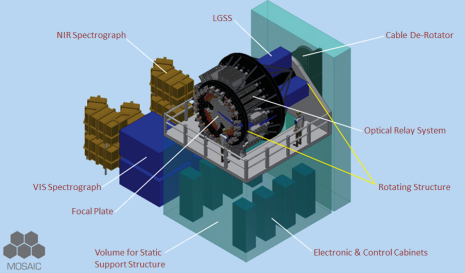 The MOSAIC team is now finalising the Phase A design study for a future versatile multi-object spectrograph at the ELT. It will be capable of providing spectra of astronomical objects in both the visible and near-infrared parts of the electromagnetic spectrum, using optical fibres to relay light from the telescope to an array of spectrographs. In addition to enabling observations of hundreds of objects simultaneously, it will provide a mode where several targets of particular interest can be observed at finer spatial resolution via correction from wide-field adaptive optics.
When combined with the world's largest collecting area at these wavelengths, MOSAIC will be able to observe the tiny spectral features arising from cold, warm and hot gas in the halos of galaxies in the deep Universe, looking back some 12 billion years. Using advanced tools that take into account the properties of the astronomical objects, the effects of Earth's atmosphere, and the performance of the telescope and the instrument, young scientists will show a suite of new simulations in Toledo. These will demonstrate how MOSAIC will be able to obtain the first rotation curves of the most distant galaxies, allowing astronomers to test if their dark matter content was already in place, or has changed with time. Beyond this flagship case, MOSAIC on the ELT will also be able to provide unique observations of the first galaxies and possibly the first generation of stars, the early formation of massive black holes, and numerous mysteries in the distant and nearby Universe.