One of the brightest supernova explosions ever?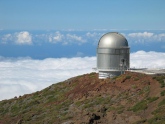 An international research group led by Erkki Kankare at Queen's University Belfast, UK, and with Professor Peter Lundqvist at the Department of Astronomy at Stockholm University as co-investigator, has discovered a new population of extremely bright explosions in distant galaxies. These may be the brightest supernova explosions ever observed. The group's research is mainly based on observations carried out at the Nordic Optical Telescope (NOT), which is co-funded by the Swedish Research Council.
Link to article: Kankare et al. 2017, Nature Astronomy, "A population of highly energetic transient events in the centres of active galaxies".
See also the news item from the Oskar Klein Centre and the press releases from Queen's University Belfast and from the University of Turku (in Finnish).
Contact: Peter Lundqvist, Department of Astronomy, peter@astro.su.se, telephone +46 8 5537 8518