Update on Neutron Star Smash-Up: Jet Hit a Roadblock
Light detected from a neutron star merger is not from a super-fast jet as previously suspected, but rather a bubble-like cocoon. Poonam Chandra, Guest Professor at the Department of Astronomy, contributes to this new study.
Millions of years ago, a pair of extremely dense stars, called neutron stars, collided in a violent smash-up that shook space and time. On August 17, 2017, both gravitational waves -- ripples in space and time -- and light waves emitted in that neutron star merger finally reached Earth. The gravitational waves came first and were detected by the twin detectors of the Laser Interferometry Gravitational-wave Observatory (LIGO), aided by the European Virgo observatory. The event was designated GW170817. The light waves were observed seconds, days, and months later by dozens of telescopes on the ground and in space.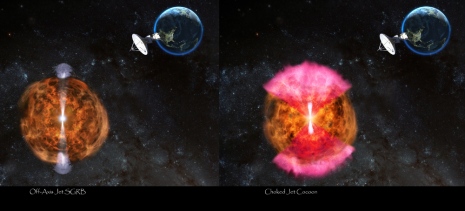 Now, scientists from Caltech, Stockholm University and several other institutions are reporting that light with radio wavelengths continues to brighten more than 100 days after the August 17 event. These radio observations indicate that a super-fast jet, launched from the two neutron stars as they collided, is slamming into surrounding material and creating a slower-moving, billowy cocoon.
"We think the jet is dumping its energy into the cocoon," says Gregg Hallinan, an assistant professor of astronomy at Caltech. "At first, people thought the material from the collision was coming out in a jet like a firehose but we are finding that that the flow of material is slower and wider, expanding outward like a bubble."
The findings, made at the lowest sub-GHz frequencies with the Giant Metrewave Radio Telescope (GMRT) in Pune, India along with the Karl G. Janksy Very Large Array in New Mexico, and the Australia Telescope Compact Array, are reported in a new paper in the December 20 online issue of the journal Nature. The lead author is Kunal Mooley, formerly of the University of Oxford and now a Jansky Fellow at Caltech.
Poonam Chandra, an Astronomer at National Centre for Radio Astrophysics Tata Institute of Fundamental Research, India, who is currently a Guest Professor at Stockholm University and part of this project quoted,"For the first time gravitational waves from neutron star merger have been detected, for the first time EM counterpart from this merger has been detected and in this historical feat, GMRT has the credit to detect it at the lowest frequency ever!"
An interview with Poonam Chandra by Swedish Radio was broadcast on December 21, 2017, and can be heard here.
See also the press release from Caltech.
The above text is a revised excerpt from the press release text by Whitney Clavin, Caltech.