Shocking Supernovae: surrounding interactions and unusual events
The conference will take place in Stockholm, Sweden from May 28 - June 1, 2018 at the AlbaNova University Center in the Svedberg auditorium (FD5).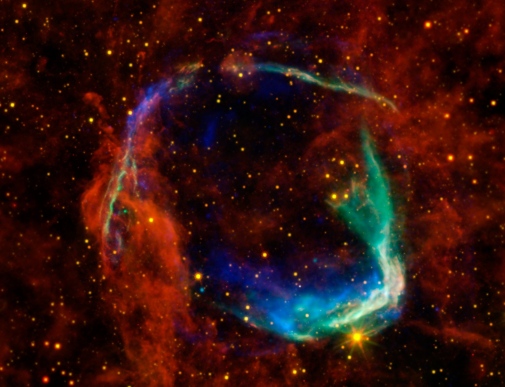 The conference will focus on the hydrodynamic and radiative interaction of supernova ejecta with their pre-supernova winds, as well as their ejecta properties. Special emphasis will be on unusual supernovae, which include supernovae in extreme wind environments, superluminous supernovae, calcium-rich supernovae, stripped-envelope supernovae, and interacting Type Ia supernovae. In addition, interactions arising due to complications such as asymmetries, clumpiness of the medium, and pre-SN episodic ejections will be discussed.
A public lecture (with a fika beforehand) will be given by Robert Kirshner on Thursday May 31 from 17-18 in the Oskar Klein Auditorium. UPDATE: A recording of the public lecture can be seen here.
Conference photo :
"Shocking Supernovae" conference photo (taken 2018 May 29 by Magnus Näslund). (1846 Kb)
Slides from a selection of the talks :

The evolution of dust formation in SN 2005ip (Bevan) (4469 Kb)

The Re-Acceleration of the Shockwave from SN 1987A (Cendes) (731 Kb)

Constraints on Jets in Hydrogen-poor Superluminous Supernovae (Coppejans) (5899 Kb)

Modelling SN nebular spectra: from the lowest to the highest mass stars (Jerkstrand) (2424 Kb)

The dusty progenitor of the Type II SN 2017eaw (Kilpatrick) (3860 Kb)

SN 2017dio: A type-IC SN showing early interactions with H-rich circumstellar medium (Kuncarayakti) (3916 Kb)

Progenitors and Explosion Mechanisms of Stripped-Envelope Supernovae (Maeda) (3550 Kb)

Magnetars as Engines of Superluminous Supernovae (Metzger) (18306 Kb)

Multimessenger Interacting Supernovae Emission from Supernovae (Murase) (14004 Kb)

Type Ibn Supernovae (Pastorello) (3910 Kb)

Binary Companions to Stripped-Envelope Supernovae (Ryder) (4196 Kb)

Radiative Shocks in Transient Astrophysical Events (Steinberg) (1280 Kb)

Early observations of Type II Supernovae and flash spectroscopy (Yaron) (7464 Kb)
Conference program :
The conference program can be found on the web here.

Final Conference Program (pdf) (218 Kb)
Conference participants :

Final List of Participants (pdf) (70 Kb)
Conference participants (html)
Conference details :
The conference will take place in Stockholm, Sweden from May 28 - June 1, 2018 at the AlbaNova University Center. Talks will be given in Svedbergsalen (FD5) which can be reached by keeping to the right of the stairs when you enter the building.

Nearby restaurants (pdf) (148 Kb)

Information for boat trip (pdf) (70 Kb)
Conference registration fee : 750 SEK for PhD students, 1500 SEK for all others.
There are no longer any special rooms available in the hotel we booked for the conference. You might try other hotels, hostels, or Airbnb.
Please let the LOC know if you need a special meal for the conference dinner.
Please let the LOC know if you need childcare during the conference.
LOC contact email: sn2018-loc@astro.su.se
(Note that emails to this list will be moderated and may not be delivered immedately.)
How to pay the conference fee (by 25 April) :
Pay the conference fee with a bank transfer using the information below. It is very important that you attach your name and this project number to the transfer in this format so that we can easily find your payment : 5940104/YOUR NAME .
Project number / Name : 5940104/YOUR NAME
From inside Sweden : Bankgiro 5050-0206 (Danske bank)
From outside Sweden :
Bank: Danske Bank, Norrmalmstorg 1, 111 46 Stockholm
Bankkonto: 12810117756
IBAN: SE1612000000012810117756
SWIFT/BIC: DABASESX
Some may also need :
Organisationsnummer: 202100-3062
Vat.nr: SE202100306201
Invited Speakers :
Anatoly Spitkovsky
Iair Arcavi
Ragnhild Lunnan
Keiichi Maeda
Roger Chevalier
Nathan Smith
Evan Patrick O'Connor
Ehud Nakar
Kohta Murase
Ori Fox
Josefin Larsson
Brian Metzger
Ofer Yaron
Eran Ofek
Andrea Pastorello
Thomas Janka
Anders Jerkstrand
Takashi Moriya
Danny Milisavljevic
Francesco Taddia
Selma E. de Mink
Erkki Kankare
Kate Maguire
Norbert Langer
Deanne Coppejans​
Maria Drout
Alicia M. Soderberg
Scientific Organizing Committee :
Poonam Chandra, Stockholm University & NCRA-TIFR (Chair)
Roger Chevalier, University of Virginia
Claes Fransson, Stockholm University
Rubina Kotak, University of Turku
Peter Lundqvist, Stockholm University
Ragnhild Lunnan, Stockholm University
Keiichi Maeda, Kyoto University
Raffaella Margutti, Northwestern University
Local Organizing Committee:
Peter Lundqvist (Chair)
Rocio M. Anderson
Esha Kundu
Michiel Bustraan
Anders Nyholm
Emily Freeland
GDPR information :
We collect your information for this conference in order to organize the event. Your information will be deleted after the event is finished. We use Google forms as a processor for this information.
Practical Information
Directions from Arlanda Airport by public transportation :
Arlanda Airport is well connected to the Central Station (Cityterminalen). You can choose between a 35-40 minutes ride by bus (Flygbussarna) for around 100 SEK, or a 20 minute ride by fast train (Arlanda Express) for more than double that price.
Flygbussarna tickets can be bought on the bus with any major credit card (cash is not accepted). Tickets for the Arlanda Express are best purchased from a ticket machine before you board the train. You can buy tickets on the train but they are more expensive.
Once you get to Cityterminalen enter the terminal hall and turn to the right, following the signs for the Tunnelbana (a blue T logo). Inside the station you can buy a single ticket (see below) or you can also buy the more convenient SL access card, depending on how long you are staying.
Taking Taxis from Arlanda :
Taking a taxi from Arlanda to anywhere in central Stockholm will cost approximately 500 SEK. All the major companies have a fixed Arlanda-Stockholm price! This price will be posted on the taxi itself. Taxis accept all major credit cards.
Some taxi companies are: Stockholm Transfer (+46) (0)20-350000, Taxi Stockholm: (+46) (0)8-150000, Taxi 020: (+46) (0)20-202020, and TaxiKurir: (+46) (0)8-300000.
Getting around in Stockholm :
Stockholm has an extensive public transportation system. If you will need to ride the bus, tunnelbana (subway), or commuter trains for more than a couple of days then buy a plastic access card (20 SEK) from an attendant at the subway station which you can load with money for individual trips (31 SEK each) or a week or month-long pass. If you need only 24 or 72 hours of traveling you can buy a disposable card (these are usually available for sale at convenience stores in or near the subway stations). There is also a free app (SL: Journey planner and tickets) which you can use to plan your journey and buy single tickets.
Standard adult fare with an access card is 31 SEK per trip which expires in 75 minutes. If you need a single ticket quickly you can always buy this from the attendant at the station entrance, although this is always the most expensive option. You cannot buy tickets on buses.
Taking a taxi anywhere within central Stockholm will cost approximately 200 SEK.
Directions to AlbaNova from T-centralen :
From the tunnelbana station, T-centralen, take the red line in the direction Mörby Centrum and get off at Tekniska Högskolan (three stops). Take the Körsbärsvägen exit from the station and the staircase to your right after you pass through the barriers.
You reach the Albanova University Centre in about 10 minute walk or by catching bus 61 just 50m up the street from the tunnelbana entrance and getting off the bus at the Ruddamen stop. The same ticket you used on the tunnelbana will be valid on the bus (if used within 75 minutes).
Last updated: June 19, 2018
Page editor: Emily Freeland
Source: Emily Freeland